Blog
On the 8th March, Stadium MK in Milton Keynes will play host to the international business-to-business (B2B) exhibition. Expo 3.0 will be the first time an international business exhibition has been held in Milton Keynes but this will hopefully be the first of many.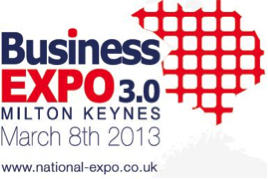 The exhibition will be an event in which businesses from all over the world can meet, network and exchange information with many other companies. There will also be much to do, including talks from inspirational key note speakers as well as workshops based around hot topics within the business world. Some of the themes that will be central throughout the event will include environmental development, international business, new media and the concept of a smart city.
Victoria Beale, the founder of Business Expo 3.0 believes that Milton Keynes is the perfect location for such an event as it is equally placed between London and Birmingham and is home to some of the worlds most recognised brands. It is obvious that traditional networking will be key with an event such as this but organisers are keen to integrate social networking just as much, in fact companies are encouraged to network online, prior to the Expo. Proceedings don't end on the day, after the event there will be a virtual exhibition online in which companies can view presentations, workshops or just download anything of interest. Business Expo 3.0 will be held at the MK Dons stadium, Doubletree by the Hilton Hotel on the 8th March, 2013, visitors should arrive by 9 am.
Xpress Relocation will be exhibiting at the Expo and we encourage attendees to come along and pay us a visit!